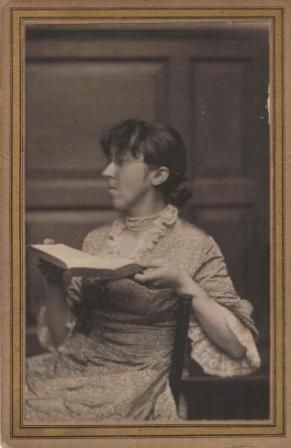 Vernon Lee
Comments on the life's work of
Violet Paget (1856 -1935)
Written by Carola Costa Angeli - March 1995
Violet Paget was barely in her 20s when her reputation as a great writer began, although the world knew her as 'Vernon Lee', her male pseudonym.
After her groundbreaking "Studies of the Eighteenth Century in Italy", she later wrote an abundance of books, essays on ethics and history, and, later, fictional stories written in a fantastic vein.
In 1889, Ms. Paget purchased the property known as`Il Palmerino', where she received visits from famous figures in the world of literature: Berenson, Aldous Huxley, Carl Placci, Anatole France, Mario Praz, etc. Everyone who visited found a woman of high intellect, though sometimes aloof, according to the then young Mrs. Flavia Farrini Cini. But we also know that Ms. Paget organized wonderful theatrical recitations and plays, belying her reputation for standoffishness.
In 1922, she restored the property's country house and the Limonaia, and transformed the horse stables into a beautiful salon. She moved into this house, where she remained for the rest of her life.
It is important to mention the initiatives Ms. Paget started in order to save her true love--Florence--from many city-sponsored plans to demolish historic buildings, and to construct ill-designed ones, by writing long letters to the `Times'.
Towards the end of her life, except for her servants, she received very few people because of her difficulty in hearing.
A commemorative plaque was installed on Il Palmerino, which reads:
VIOLET PAGET - VERNON LEE 1856-1935 LIVED IN THIS HOUSE SINCE 1889. FROM HER YOUTH SHE LOVED ITALY WITH HER PASSIONATE SEARCH FOR BEAUTY, HER MANY BOOKS REMAIN TO PROVE IT.
http://www.oscholars.com/Sibyl/sibylhomepage.htm
An essay about Vernon Lee and Il Palmerino is :
http://openinquiryarchive.net/2014/02/11/vol-3-no-1-2014-cosmopolitan-florence/