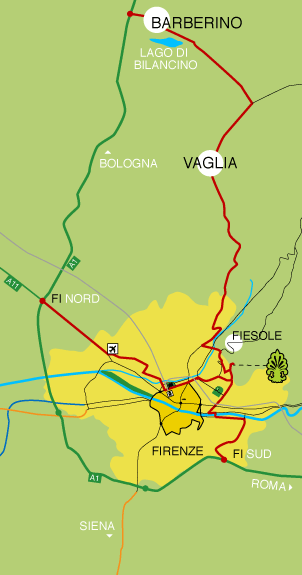 Area
The Residenza's location is perfectly suited to exploration of the surrounding Florence hills and Tuscan countryside.
Whether walking, treking, or biking, on small streets bordered by stone walls, or on trails through the woods, and countryside, the Residenza is your home base for an escape into a natural world, permeated with history.
Stand, as Leonardo da Vinci did, high over Florence in Montececeri, just beyond the Residenza's back meadow, as he experimented with his flying machines at the early 1500s. Walk the paths Michelangelo took to Settignano, where he spent a large part of his childhood with a stonecutter's family. See, and feel for yourself, how history is preserved in this ephemeral place.
The ancient etruscan town of Fiesole, with its well-maintained ampitheatre and other artifacts, provides dramatic and well-known views of Florence, and is also only a short distance away. Standing over the Florence skyline, feeling as though the Duomo is just within your reach, your memory will be indelibly etched with vibrant light and colors.
Fiesole is also the site of the Villa la Torraccia, and the prestigious Fiesole Music School, which offers Sunday morning concerts, open to the public.
The beautiful village of Maiano, with its well known "Fattoria" or agricultural estate, is a pleasant and invigorating walk from the Residenza. The daily organic farmers market features fresh local vegetables, cheeses, wines, fresh local extra virgin olive oils, and of course, homemade gelato, and is a perfect introduction to all things Tuscan.
San Domenico, with its Convento and Badia Fiesolana, is home to the European University Institute, also sits in the hills above Florence. One of the largest universities in Florence, the EUI attracts graduate and post graduate students from around the world. The EUI's recent purchase of Villa Salviati, one of the most storied in Florence, greatly expands its world-class facilities.
Also easily accessible from the Residenza is the Florence Sports Complex with Olympic-sized public swimming pool, tennis courts, skateboard park, and jogging path.
The Residenza's neighborhood provides for all shopping and dining needs: supermarket, daily fresh vegetable market, stores providing wine, cheese, olive oils and other local foods, pizzerias, restaurants, bars, and enoteca (wine bars).
Whether tips or recommendations for museums, concerts, restaurants, shopping, outlets, and other places of local interest, we are happy to help our guests make their trip to Florence, and to the Residenza del Palmerino, a truly memorable one.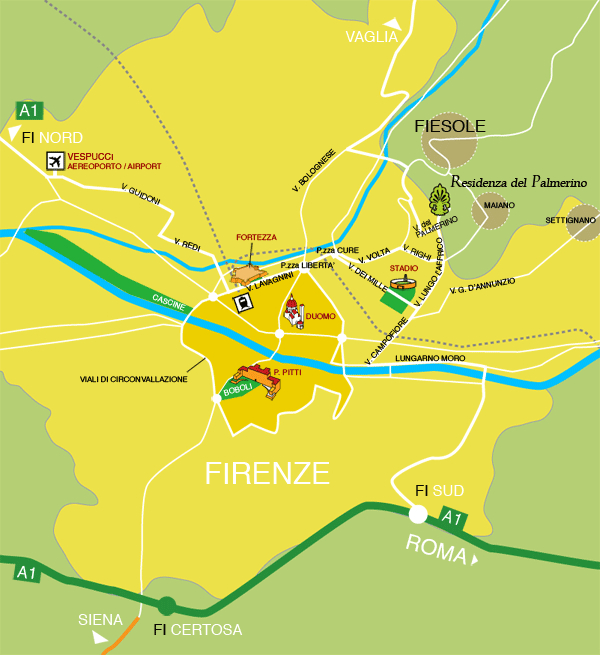 ---